Highlights
● Ultra-High-Resolution (50 pts/m2) LiDAR Surveying
● High-Definition (8-10cm Resolution) Orthophoto Imaging
Calgary, Alberta – May 17, 2023. Cascade Copper Corp. (CSE: "CASC") ("Cascade" or the "Corporation") is pleased to announce the initial results of a 59.6 km2 ultra-high-resolution LiDAR and high-definition orthophoto imaging survey encompassing all of Targets I, II, and III on the Rogers Creek Project, in BC. Canada. Data quality is extremely high, giving a clear image of the status of all roads and bridges throughout the project, including newly developed infrastructure that will permit much easier access to unexplored areas. The LiDAR survey produced a highly accurate digital elevation model (DEM) to be used in future exploration endeavors potentially including drone surveying, structural interpretation, 3D modelling, artificial intelligence, and drill planning.
Jeff Ackert, President and CEO remarks "I am very much impressed with the detailed imagery and DEM Hillshades that have recently been acquired for the Rogers Creek Project. Of particular interest is the bare earth model LiDAR imagery which clearly reveals evidence of structures, geologic boundaries, and waterways. This information will certainly help us with our planned exploration for this year as well as creating a proper 3D surface to reference all our geological and geophysical data."
Acquisition Details
The survey was acquired by Pioneer Exploration Consultants out of Ottawa, Ontario who are the same team that commercialized the first drone-magnetics system in Canada and brought LiDAR to the forefront. An impressive average LiDAR point density of 50 pts/m2 and orthophoto imagery resolution of 8-10cm was obtained. The survey was flown in a helicopter at a low altitude to optimize data collection and covered approximately 75% of the Rogers Creek Project.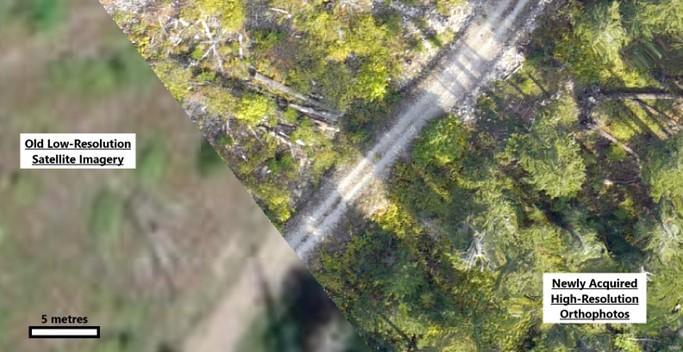 Figure 1: Comparison of Low-Resolution Satellite Imagery (left) and High-Resolution Orthophoto (right)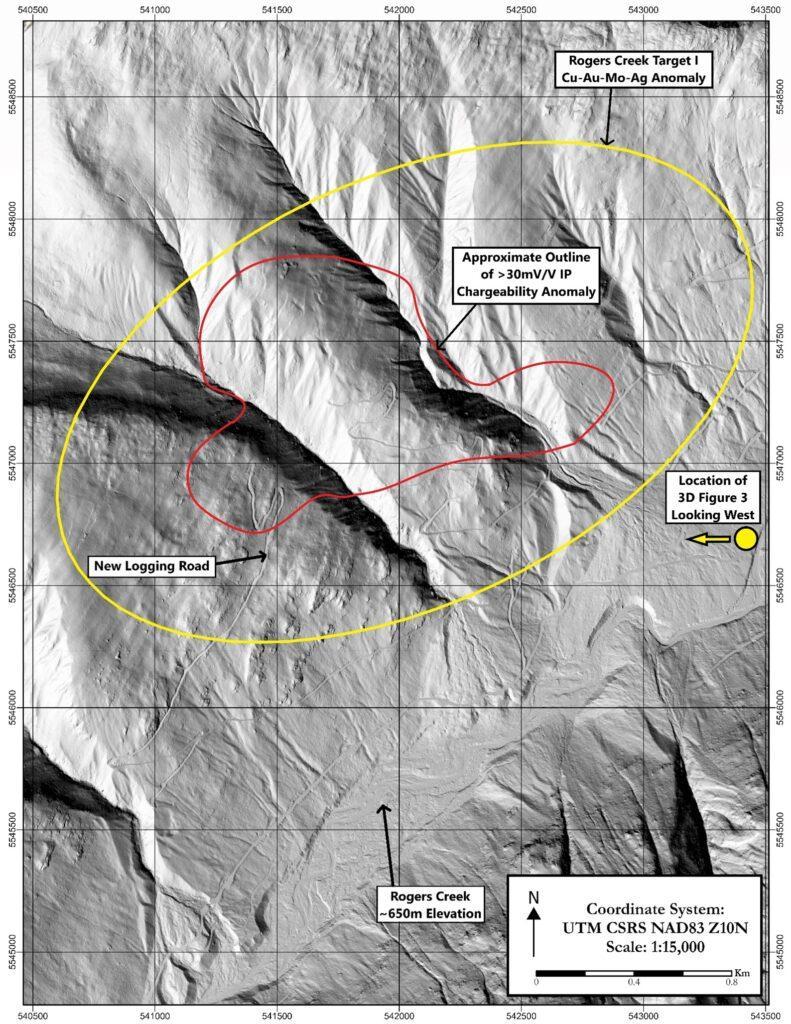 Figure 2: LiDAR Hillshade Image of Rogers Creek Target I. Note the easily seen logging roads, drainages, and lithological features.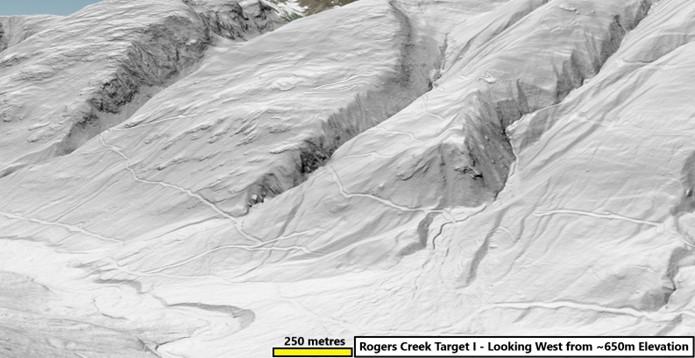 Figure 3: 3D LiDAR Hillshade Image of Rogers Creek Target I. Looking West from the Upper Rogers Creek Valley at ~650m Elevation.
Rogers Creek: The Rogers Creek Copper Gold Property is comprised of 8 contiguous mineral claims covering approximately 82.34 square kilometres. The Rogers Creek project is located within southwestern British Columbia and is being explored for porphyry and epithermal-style copper, gold, and molybdenum mineralization associated with intrusive activity that is part of the post-accretionary Tertiary age Cascade Magmatic Arc. Several very large porphyry and epithermal deposits occur within the Cascade Belt in neighbouring southeast Alaska and Washington State and in other similar aged magmatic belts around the world. This project has the potential to host large tonnage porphyry style mineralization.
The Qualified Person responsible for the technical content of this press release is Shannon Baird, P.Geo, Vice President Exploration of Cascade Copper Corp.
About Cascade Copper
The Corporation is an exploration stage natural resource company engaged in the evaluation, acquisition, and exploration of mineral resource properties with the intention, if warranted, of placing them into production. Cascade is focused on exploration, development, and acquisition of quality exploration properties. More specifically, Cascade's objective is to conduct an exploration program on its flagship Rogers Creek Property located in the Coast Mountain Belt of British Columbia about 90 kilometres northeast of Vancouver, in the Southwest Mining Region. Cascade currently has three projects, including the Fire Mountain Copper Gold Project, the Bendor Gold Project, with its core project being the Rogers Creek Copper Gold Property.
FOR FURTHER INFORMATION, PLEASE CONTACT:
CASCADE COPPER CORP.
Jeffrey S. Ackert, President and CEO
820-1130 West Pender St.
Vancouver, BC V6E 4A4
Telephone: 1 613 851 7699
E-Mail: [email protected]
Web: www.cascadecopper.com
Neither the CSE nor its Regulation Services Provider (as that term is defined in the policies of the CSE) accepts responsibility for the adequacy or accuracy of this release.
DISCLAIMER & FORWARD-LOOKING STATEMENTS
This news release includes certain "forward-looking statements" which are not comprised of historical facts. Forward-looking statements are based on assumptions and address future events and conditions, and by their very nature involve inherent risks and uncertainties. Although these statements are based on currently available information, Cascade Copper Corp. provides no assurance that actual results will meet management's expectations. Factors which cause results to differ materially are set out in the Company's documents filed on SEDAR. Undue reliance should not be placed on "forward looking statements".