Fire Mountain is a large 7,913 hectare "Flagship" quality project with significant surface results, little historical work, and all the right infrastructure in place to be a top tier asset. Located approximately 220km from Vancouver in the Coastal Mountain Belt along trend with multiple Cu-Au-Mo deposits across Alaska, British Columbia, and Washington State including the Glacier Peak (1.7Bt @ 0.334% Cu, 0.015% MoS2) and Margaret (523Mt @ 0.36% Cu, 0.011% Mo, 0.24 g/t Au) deposits (Singer et al. 2008) in upper Washington State. Fire Mountain is tucked alongside an all-season, major logging road system with high-tension power and an all-season high-flow water source.
~7900 ha along a crustal-scale fault system proximal to the Miocene-aged Rogers Creek Pluton
Largely underexplored ~13 km section along a major dilational jog with associated Tertiary intrusives
Analogous to the Cu-Au porphyry-related deposits at the Copper Mountain – Ingerbelle Projects
~10 km long x ~2.5 km wide magnetic anomaly outlining prospective Cu-Au-Ag mineralization that exploits the Fire Creek Fault system structures and haloes the Rogers Creek Pluton
Recent exploration has outlined a drill-ready target zone of hydrothermal alteration within a propylitic envelope, with coincident rock sample assays up to 15 g/t Au, 1.58% Cu, 52 g/t Ag, 0.12% Co
Minimal historic sampling within the Rogers Creek Pluton on Fire Mountain East outlined at least three distinct 1-2km diameter wide zones of significant Cu-Mo-Au-W-Bi porphyry pathfinder element associations with coincident magnetic anomalies at major north-northwest arc-parallel and northeast structural intersections
A wide-open, unglaciated, and mostly alpine to old growth land package with no previous drilling, IP, CSAMT, EM or other useful geophysical survey gives the potential for a cheap, early-stage potential major discovery
Emplaced within the Gambier Group, host to numerous prospects and past producers consisting of Cu-Au porphyry, skarn, vein-gold, and VMS mineralization
Analogous to regional producers including the nearby Copper Mountain Mine with a total mineral resource of 1.1Bt @ 0.22% Cu, 0.09 g/t Au, and 0.64 g/t Ag as of August 1st 2022 (NI 43-101 Technical Report for Copper Mountain Project)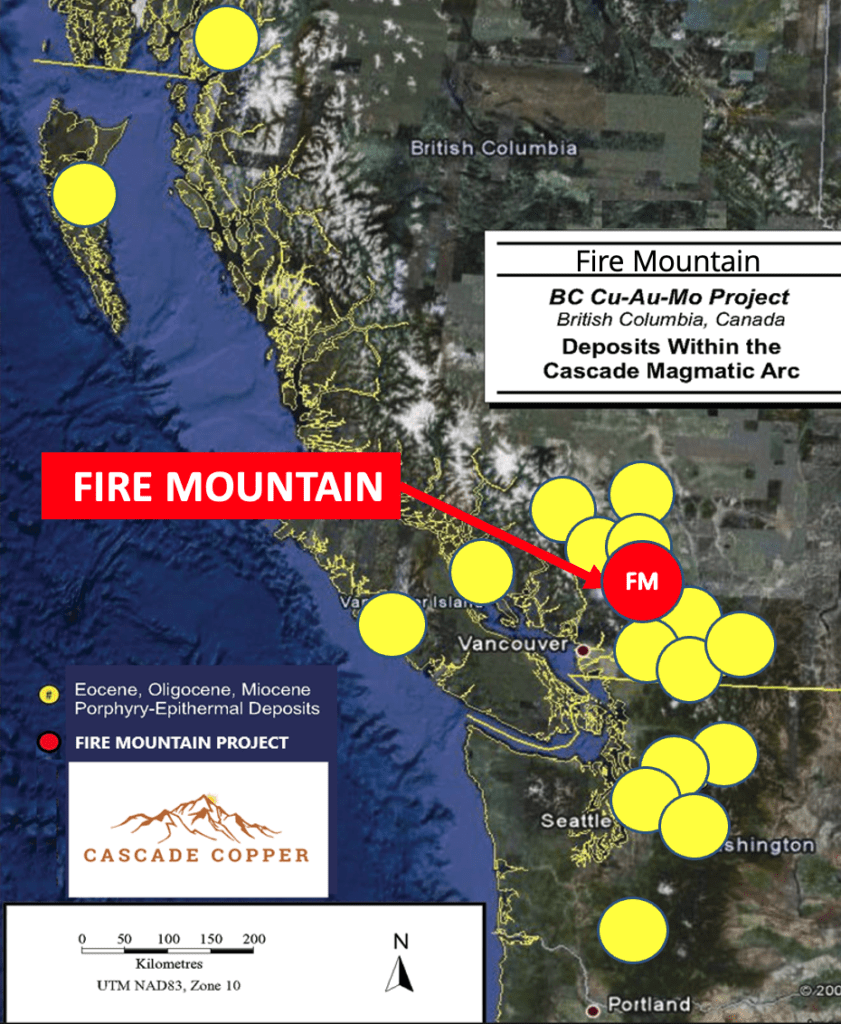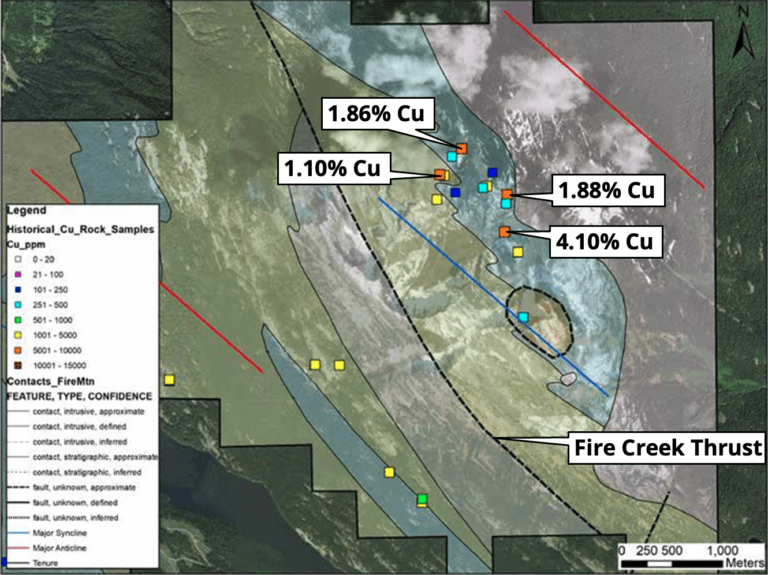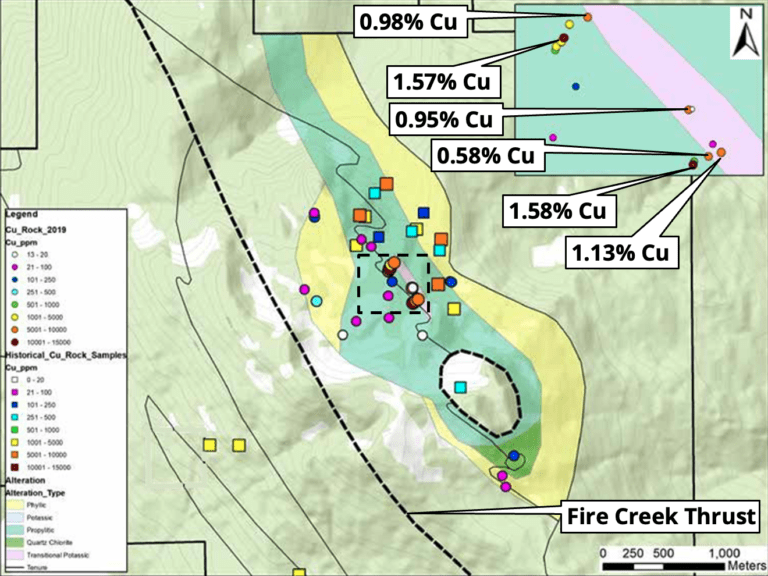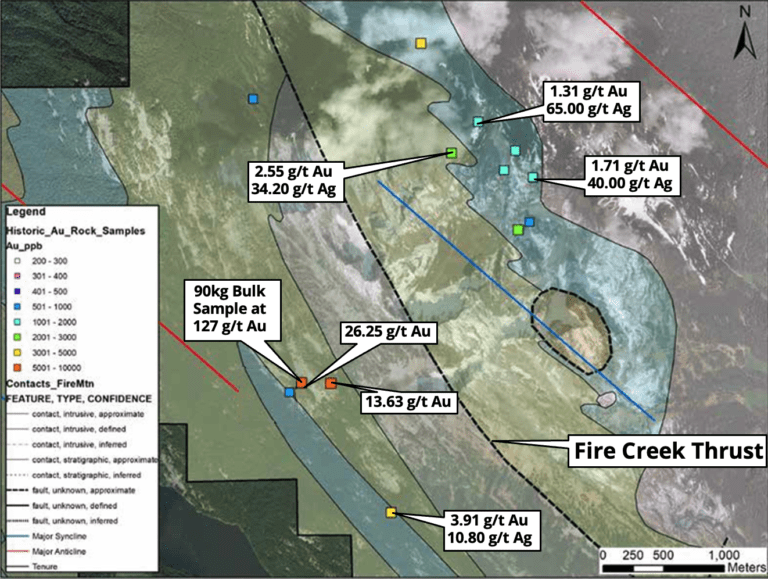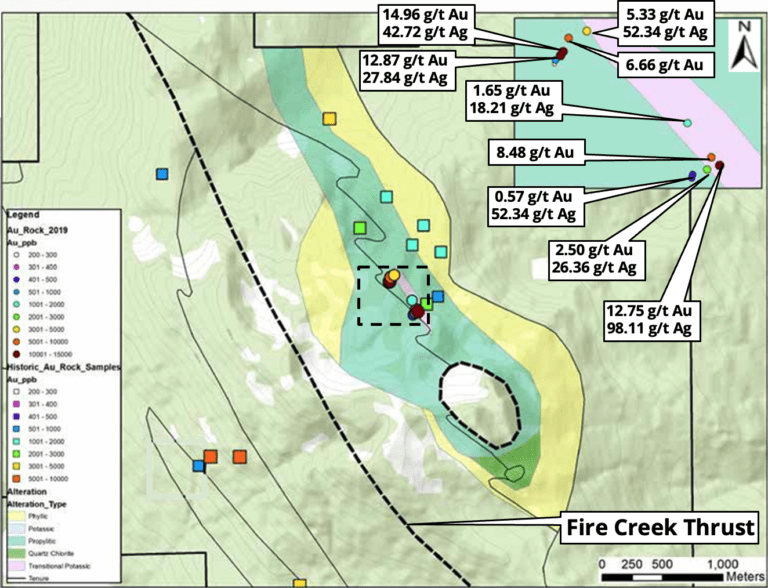 Recent discovery of porphyry-related veining, alteration, and mineralization assaying up to 14.96 g/t Au, 1.58% Cu, and 52 g/t Ag in quartz-magnetite-chalcopyrite-epidote assemblage vein sets in multiple orientations
Historic trenching of tuff breccia on southern flank assayed up to 1.4 g/t Au, 0.91% Cu, and 19 g/t Ag
Historic tuff breccia rock samples assayed up to 3.91g/t Au, 0.21% Cu, and 11 g/t Ag
Historic quartz-vein stockwork samples assayed up to 4.16 g/t Au, 1.88% Cu, and 65 g/t Ag
Historic chip sampling of the NW-trending, ~1.2m wide by 300m+ long, ribboned quartz Money Spinner vein assayed 26.25 g/t Au while another parallel vein system ~200m east assayed 13.63 g/t Au
Historic soil and rock sampling within the Rogers Creek Pluton proper ~2-3km east of the 2019 discovery outlined three distinct 1-2km diameter wide zones of significant Cu-Mo-Au-W-Bi porphyry pathfinder element associations at northeast structural intersections along a 7km major north-northwest arc-parallel fault system
The minimal prospecting and sampling of the two northern zones within the Rogers Creek Pluton discovered multiple showings of copper-molybdenum mineralization along new logging roads. Molybdenite +/- chalcopyrite are observed in veins and on fractures and joint planes with values up to 1.56% Cu, 3.84 g/t Au, 75 g/t Ag, and 241 ppm Mo in rock grab samples.
view the technical presentation:
View all news releases about Fire Mountain