For Immediate Release
Calgary, Alberta – May 04, 2023. Cascade Copper Corp. (CSE: "CASC") ("Cascade" or the "Corporation") is pleased to introduce its management team and their portfolio of copper and gold projects in British Columbia, Canada. The team has been in place pre-IPO and has worked diligently in order to list the company on a Canadian stock exchange. The Common Shares of the Corporation commenced trading on the CSE on April 25, 2023 under the trading symbol "CASC".
Jeff Ackert, President and CEO remarks " I am very proud that our team has brought the company from inception last year to listing this April. Our legal team at Heighington Law, the brokers at Leede Jones Gable, our accountant Cherry Cai, our CFO Yana Silina at Da Costa Management, Tyler Muir at TMM Capital Advisory, and the company's directors have all put in an extraordinary effort to make this happen." Mr. Ackert adds "Now that the IPO financing is completed, the Company is in a great position to start our 2023 exploration programs at Rogers Creek, Fire Mountain, and Bendor."
Management and Board
Cascade Copper Corp's management and board have a perfect mix of technical, financial, and governance experience that will help guide the company to exploration success, market awareness, and increased value for shareholders.
Mr. Jeff Ackert is the company's President, CEO, as well as a director. Mr. Ackert began his career as a regional geologist with St. Joe Minerals, Bond Gold Canada, and LAC Minerals in the 1980s. In 1990 he became mine geologist at LAC Minerals' Golden Patricia Mine (Barrick Gold Corp after 1994) where he specialized in production and exploration. In 1996 he was appointed VP Exploration for Orezone Resources Inc. (now Orezone Gold Corp) focusing on West Africa and was subsequently named VP Technical Services in 2005. Mr. Ackert was a co-founder of Carube Copper Corp, now C3 Metals, a successful explorer for copper in Peru and Jamaica. Jeff sits on the board of several Canadian exploration companies and has been involved in running publicly listed companies for over 25 years.
Mr. Shannon Baird is Cascade's VP of Exploration and a director. Mr. Baird brings over 17 years of technical, management, evaluation, and development experience in Au-Ag, Cu-Au, and Ni-Cu-PGE exploration across the Americas and Caribbean with Vale, Wallbridge Mining, Carube Copper, C3 Metals, and PrometheX Ltd. Mr. Baird played an integral part in the discovery of Parkin 1500 Cu-Ni-PGE Zone in Sudbury, the development of the Broken Hammer Cu-PGE open pit in Sudbury, the Rogers Creek and Mackenzie Cu-Au Porphyries in BC, and the Main Ridge Au-Ag-Cu epithermal trend in Jamaica. Mr. Baird holds an Applied MSc. in Economic Geology with a focus on Exploration from Laurentian University and is the corporation's Qualified Person.
The Hon. Alison Redford, QC. ICD. D is an independent company director. Ms. Redford is a Canadian Lawyer and serves as an advisor to national governments and ministries in emerging economies on regulatory reform to promote transparency and investor confidence. She provides independent advice on the creation of regulatory regimes related to climate, social and governance sustainability. Separately, Ms. Redford also serves as a strategic advisor to public companies operating in volatile political climates to assess risk and ensure regulatory compliance, particularly as it relates to Extractive Industries Transparency Initiatives and Community Benefits Agreements for affected Indigenous people. Previously, Ms. Redford served as Premier of Alberta from 2011 to 2014 and as Minister of Justice and Attorney General from 2008. Ms. Redford holds a law degree from the College of Law at the University of Saskatchewan.
Mr. Darcy Christian is an independent company director. Mr. Christian is the President of Braidplain Consulting Ltd., a management consultancy company, CEO and Director of Ashley Gold Corp, a CSE listed junior mining company. From 2018 until 2020, Principal Geoscientist with IHS Markit and from 2015 until 2016, Business Development Manager with Finder Exploration Canada. Mr. Christian holds a Bachelor of Science (Geoscientist) degree from the University of Alberta and a professional designation with the Association of Professional Engineers and Geoscientists of Alberta (APEGA). Mr. Christian also holds a Master of Science in Geoscience from the University of London.
Ms. Yanika Silina is Cascade's CFO. Since 2008, Ms. Silina has been a Senior Accountant with Da Costa Management Corp., a Vancouver-based company providing management services to private and public companies. Since 2014, Ms. Silina has been the CFO, Secretary, Treasurer, and a Director of Cell MedX Corp., an OTC Pink listed company, since 2017, CFO of Stuhini Exploration Ltd., a TSXV listed company, since 2014, a Director of Kesselrun Resources Ltd., a TSXV listed company and since July 2022, CFO of Tocvan Ventures Corp, a CSE listed company. Ms. Silina received a Diploma in Management Studies from Thompson Rivers University, Kamloops, British Columbia (2011) and her CPA, CMA designation in 2015.
Project Portfolio
Rogers Creek: The Rogers Creek Copper Gold Property is comprised of 8 contiguous mineral claims covering approximately 82.34 square kilometres. The Rogers Creek project is located within southwestern British Columbia and is being explored for porphyry and epithermal-style copper, gold, and molybdenum mineralization associated with intrusive activity that is part of the post-accretionary Tertiary age Cascade Magmatic Arc. Several very large porphyry and epithermal deposits occur within the Cascade Belt in neighbouring southeast Alaska and Washington State and in other similar aged magmatic belts around the world. This project has the potential to host large tonnage porphyry style mineralization.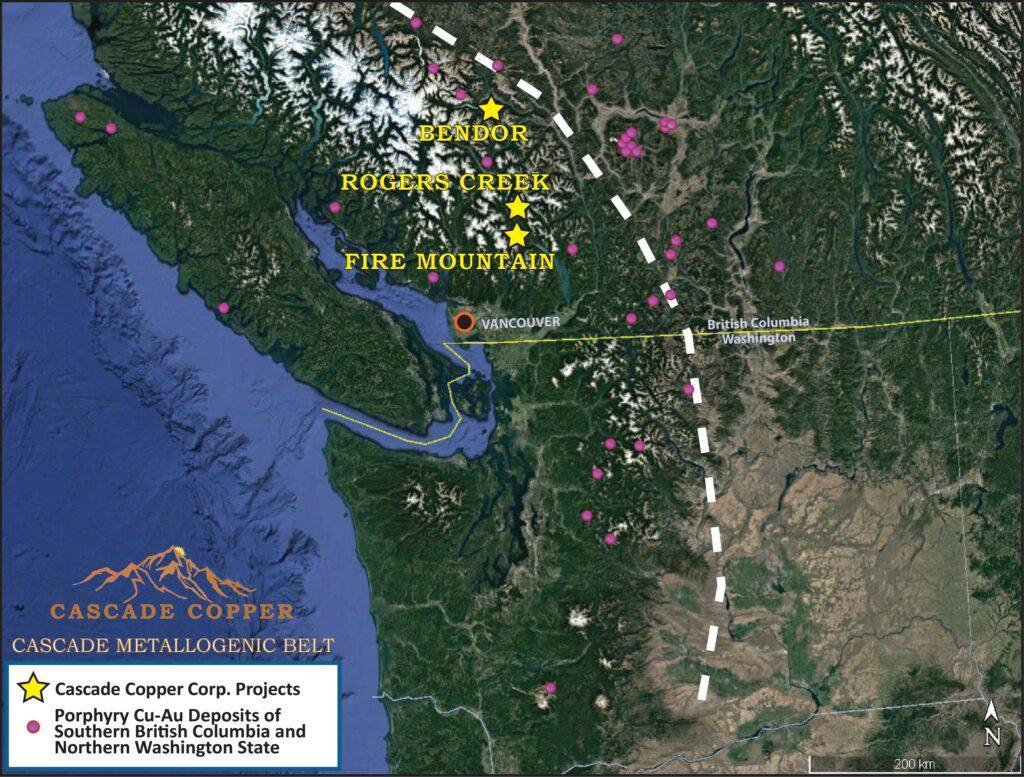 Fire Mountain: The Fire Mountain Copper Gold Property is a large, 79.13 square kilometre, potential "Flagship" project with significant surface assay results, intensive veining, and impressive alteration, all indicating porphyry style mineralization. The Project is located approximately 13km south of the Rogers Creek Project within the Cascade Magmatic Arc. The receding snow and ice cover has exposed some very prospective geology that has yet to be explored. Cascade Copper will evaluate this emerging project as soon as possible.
Bendor: The Bendor Gold Project covers 30.63 square kilometres located within the Bridge River Gold Belt, a structural north-west trending corridor of highly productive Au-Quartz vein occurrences. The Bendor Project is situated just 22km southeast of the historic and past producing Bralorne and Pioneer Mines where ~4.5 million ounces of gold was produced. Historic work at Bendor included drilling and underground development at the Bristol West and Bristol Main Shear zones. The Bendor Project has the potential to host one or more high grade quartz vein related gold deposits.
The Qualified Person responsible for the technical content of this press release is Shannon Baird, P.Geo, Vice President Exploration of Cascade Copper Corp.
About Cascade Copper
The Corporation is an exploration stage natural resource company engaged in the evaluation, acquisition, and exploration of mineral resource properties with the intention, if warranted, of placing them into production. Cascade is focused on exploration, development, and acquisition of quality exploration properties. More specifically, Cascade's objective is to conduct an exploration program on its flagship Rogers Creek Property located in the Coast Mountain Belt of British Columbia about 90 kilometres northeast of Vancouver, in the Southwest Mining Region. Cascade currently has three projects, including the Fire Mountain Copper Gold Project, the Bendor Gold Project, with its core project being the Rogers Creek Copper Gold Property.
FOR FURTHER INFORMATION, PLEASE CONTACT:
CASCADE COPPER CORP.
Jeffrey S. Ackert, President and CEO
820-1130 West Pender St.
Vancouver, BC V6E 4A4
Telephone: 1 613 851 7699
E-Mail: [email protected]
Web: www.cascadecopper.com
This news release does not constitute an offer to sell or a solicitation of an offer to sell any of the securities in the United States.
The securities have not been and will not be registered under the United States Securities Act of 1933, as amended (the "U.S. Securities Act") or any state securities laws and may not be offered or sold within the United States or to U.S. Persons unless registered under the U.S. Securities Act and applicable state securities laws or an exemption from such registration is available.