• Recent compilation of historic work reveals Highly Compelling Porphyry Target
• Compilation incorporates previous drilling, geophysics including IP and magnetics, alteration mapping, and soil & rock sampling.
• 1500m core drilling planned using forestry access roads
Calgary, Alberta – July 13, 2023. Cascade Copper Corp. (CSE: "CASC") ("Cascade" or the "Corporation") is pleased to announce that they have completed a compilation and comprehensive review of all historic data from their flagship Rogers Creek Porphyry Project in Southern BC. Mira Geoscience was contracted to model and assimilate all the Induced Polarization data from previous surveys into a definitive database. All historic data has been loaded into Mira's proprietary Geoscience Analyst Software that allows for viewing in 3D.
Shannon Baird, Vice President of Exploration remarks "Having all the previous data compiled into one database that is easily accessible and viewable in 3D has allowed us to identify a fantastic looking chargeability anomaly that is surrounded by copper porphyry style mineralization, alteration, and veining. We are extremely keen to drill this target as soon as we can."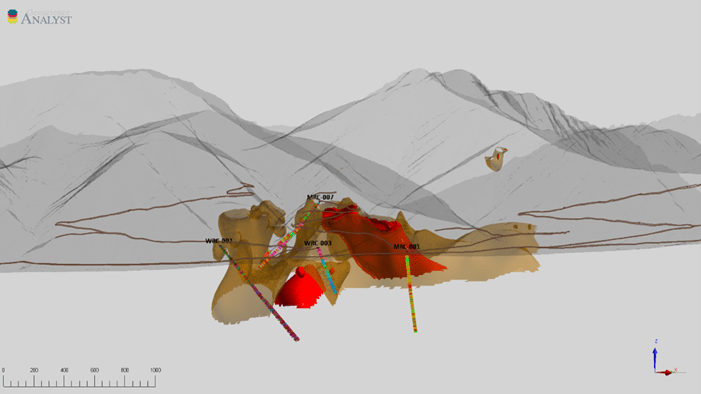 Target 1 Details
The Target 1 area at Rogers Creek has been identified by 8 lines of Pole-Dipole Induced Polarization surveys that were completed over several campaigns between 2009 and 2019. This compilation and modelling exercise was the first time all the IP data has been combined and modelled by 3D Inversion. This new inversion model shows two large, >500m wide, 30ms chargeability anomalies in the centre of Target 1 encompassed by a broad >2km wide, 20ms isoshell interpreted to represent mineralized porphyry centres and their associated phyllic alteration halo. In addition to the IP, previous soil and rock sampling have returned over 500ppm Cu in soil and over 1% Cu in rock grab samples. Geological and alteration mapping has indicated porphyry style veining with propylitic, phyllic, and potassic alteration on surface. Mineralization observed in historic drill core directly correlates with the IP chargeability highs, which together with the surface mapping indicate a "blind" porphyritic body at Target 1.
Previous Drilling
Previous diamond drilling at Target 1 intersected wide intervals of copper mineralization, especially when nearing chargeability highs. Several historic drill holes intersected significant intervals of gold enrichment. Drill hole MRC-007 intersected over 150m of elevated copper including 0.172% Cu over 12.3m and WRC-002 intersected 0.2 g/t Au over 120m including 1.05 g/t Au over 13.5m. These 2 holes were drilled pre-IP surveying and targeted below known surface mineralization. It is important to note that these 2 holes were drilled the closest to the current priority chargeability anomaly at Target 1 and coincidently returned the best copper and gold values. None of the historic drilling has intersect the core of either IP anomaly and the company believes that these holes only "skirted" the periphery of the larger mineralized system.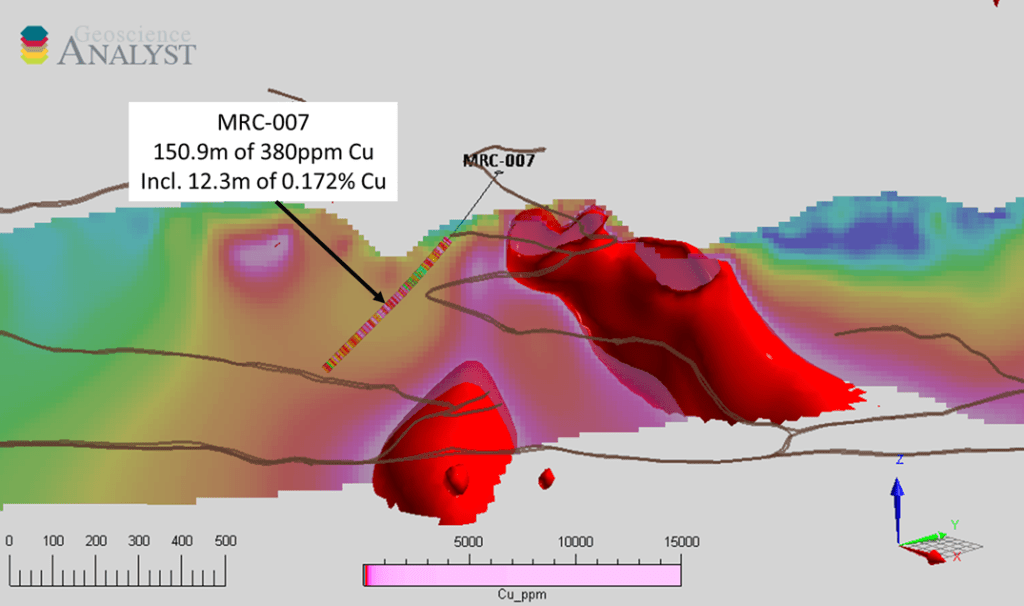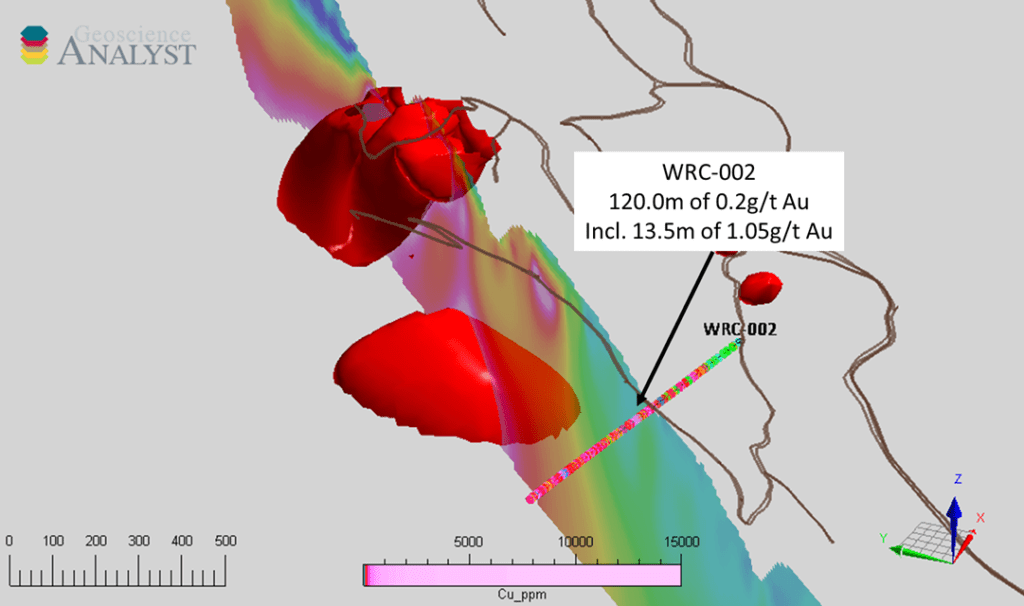 Planned Drilling
Cascade Copper plans to drill test the higher chargeability anomaly centres at Rogers Creek Target 1 to investigate the interpreted copper porphyry system. Drilling will focus on intersecting the deeper IP anomaly centre where surface investigation has indicated D-type porphyry veins, copper mineralization, and significant porphyry style alteration above and peripheral to it. As well, historic drilling has encountered copper and gold mineralization when in close proximity. A two to three hole, 1500m program is planned and the collars for the holes will be set on existing forestry access roads allowing for higher cost efficiency and lower impact. The drill permitting process has been initiated.
The Qualified Person responsible for the technical content of this press release is Shannon Baird, P.Geo, Vice President Exploration of Cascade Copper Corp.
About Cascade Copper
The Corporation is an exploration stage natural resource company engaged in the evaluation, acquisition, and exploration of mineral resource properties with the intention, if warranted, of placing them into production. Cascade is focused on exploration, development, and acquisition of quality exploration properties. More specifically, Cascade's objective is to conduct an exploration program on its flagship Rogers Creek Property located in the Coast Mountain Belt of British Columbia about 90 kilometres northeast of Vancouver, in the Southwest Mining Region. Cascade currently has three projects, including the Fire Mountain Copper-Gold Project, the Bendor Gold Project, and the flagship Rogers Creek Copper-Gold Project.
FOR FURTHER INFORMATION, PLEASE CONTACT:
CASCADE COPPER CORP.
Jeffrey S. Ackert, President and CEO
Vancouver, BC V6E 4A4
Telephone: 1 613 851 7699
E-Mail: [email protected]
Neither the CSE nor its Regulation Services Provider (as that term is defined in the policies of the CSE) accepts responsibility for the adequacy or accuracy of this release.
DISCLAIMER & FORWARD-LOOKING STATEMENTS
This news release includes certain "forward-looking statements" which are not comprised of historical facts. Forward-looking statements are based on assumptions and address future events and conditions, and by their very nature involve inherent risks and uncertainties. Although these statements are based on currently available information, Cascade Copper Corp. provides no assurance that actual results will meet management's expectations. Factors which cause results to differ materially are set out in the Company's documents filed on SEDAR. Undue reliance should not be placed on "forward looking statements."