• Historic drilling shows copper, molybdenum, silver, gold, and tungsten content
• Cascade will own 90% of the project, the vendor will hold a 10% working interest
• All share deal
Calgary, Alberta – June 22, 2023. Cascade Copper Corp. (CSE: "CASC") ("Cascade" or the "Corporation") is pleased to announce that they have signed a Letter of Intent (LOI) to purchase 90% of the 2,789 hectare Copper Plateau Porphyry project (the Project) located in south-central British Columbia, Canada. The LOI proposes an all share deal where Cascade will issue shares worth $200,000. The number of shares issued will be based on a 20 day weighted average from the date prior to signing a definitive agreement.
Jeff Ackert, President and CEO remarks "The addition of the Copper Plateau Project to our core assets – Rogers Creek, Fire Mountain and Bendor will definitely enhance our copper project portfolio. Not only is Copper Plateau located near operating and past producing copper mines, but it is also nearby some significant new discoveries. Access is exceptionally good with logging roads across the project area. Being situated in lower latitudes and lower elevations, compared to our core assets, will afford a longer exploration season at Copper Plateau. . Our team at Cascade is reviewing the historic data and a block model that was prepared for Copper Plateau in 2011. Our initial thoughts are that the project has some great potential for significant tonnage and copper-moly content and we look forward to proving that out."
Project Location
The Copper Plateau Porphyry project is located in southern British Columbia, between Penticton and Princeton. It is situated south of the former Brenda Copper Mine, which produced 177 million tonnes of ore grading 0.169% Cu and 0.043% Mo between 1970 and 1990. The geological setting is within the Quesnellia Terrain which hosts Copper Mountain (1.10Bt @ 0.22% Cu, 0.09 g/t Au, 0.58 g/t Ag Resource3)about 40km southwest of Copper Plateau and Teck's Highland Valley copper mine (M&I 1.10Bt @ 0.28% Cu, 0.01% Mo Resource4). Kodiak Copper's MPD project lies 40km west of the Project.
Project Highlights
Previous diamond drilling intersected significant intervals of copper, molybdenum, gold, and silver. . BC MINFILE No 092HNE100 reports a 1996 mineral inventory estimate of 23M tonnes grading 0.161% Cu and 0.04% Mo1.(copper equivalent of 0.372% CuEq2). Historic drilling included 94 holes by operators Anaconda, Jasper Mining, and Verdstone, with the last drill program at the Project having occurred in 2008. The database includes all drill hole data and assay results, surface geology and geochemistry, limited resistivity geophysics, a DEM, and a block model study completed in 2011 that indicates the potential size and grade of the mineral inventory at the Project. The limited drilling shows the mineralization remains open in all directions.
Acquisition Details
The non-binding Letter of Intent proposes that Cascade Copper purchase 90% of the Copper Plateau Copper- Moly Project by issuing $200,000 worth of Cascade units. Each unit will contain a share and a half purchase warrant. The shares will be valued at the 20 day weighted average share price prior to signing of a definitive agreement. The full warrant will vest after 12 months and be good for 3 years from issue and will be valued at a premium ratio of the issuing share price. The vendor will retain a 10% interest and will contribute that amount to all exploration programs at the Project. The vendor has significant expertise in structural interpretation and modelling and will apply this as the Project is explored. Cascade will have 60 days to perform due diligence. It is expected that the definitive agreement will be signed on or around August 15, 2023.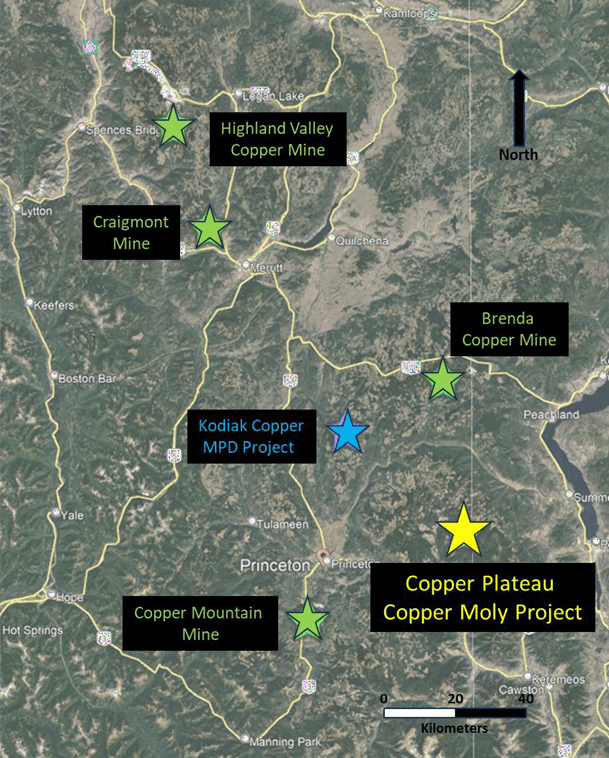 Figure 1: Location of the Copper Plateau Copper Moly Project in Southern British Columbia
The Qualified Person responsible for the technical content of this press release is Shannon Baird, P.Geo, Vice President Exploration of Cascade Copper Corp.
About Cascade Copper
The Corporation is an exploration stage natural resource company engaged in the evaluation, acquisition, and exploration of mineral resource properties with the intention, if warranted, of placing them into production. Cascade is focused on exploration, development, and acquisition of quality exploration properties. More specifically, Cascade's objective is to conduct an exploration program on its flagship Rogers Creek Property located in the Coast Mountain Belt of British Columbia about 90 kilometres northeast of Vancouver, in the Southwest Mining Region. Cascade currently has three projects, including the Fire Mountain Copper-Gold Project, the Bendor Gold Project and the flagship Rogers Creek Copper-Gold Project.
FOR FURTHER INFORMATION, PLEASE CONTACT:
CASCADE COPPER CORP.
Jeffrey S. Ackert, President and CEO 820-1130 West Pender St.
Vancouver, BC V6E 4A4 Telephone: 1 613 851 7699
E-Mail: [email protected]
1 From BC Minfile No. 092HNE100
2:Copper Equivalent using $3.80/lb Cu, $1850/oz Au, $21/oz Ag and $20/lb Mo (All in $USD). The calculation does not take into account any recovery loss. The calculation is as follows: CuEq = [(Cu% * lbs/tonne/100 * $Cu) + (Mo% * lbs/tonne/100 * $Mo) + (Au g/t * ($Au/grams per Troy oz Au)) + (Ag g/t * ($Ag/grams per Troy oz Ag))] / [$Cu* lbs/tonne/100] with grams per troy oz = 31.1035, lbs/tonne = 2204.62. The simplified conversion factors at these metal prices equate to: CuEq = Cu% + (Mo% * 6.578947) + (Au g/t * 0.710178) + (Ag g/t * 0.008829).
3 Copper Mountain Annual Information Form Dated March 27, 2023
4 Teck Resources Annual Information Form Dated February 21, 2023
Neither the CSE nor its Regulation Services Provider (as that term is defined in the policies of the CSE) accepts responsibility for the adequacy or accuracy of this release.
DISCLAIMER & FORWARD-LOOKING STATEMENTS
This news release includes certain "forward-looking statements" which are not comprised of historical facts. Forward- looking statements are based on assumptions and address future events and conditions, and by their very nature involve inherent risks and uncertainties. Although these statements are based on currently available information, Cascade Copper Corp. provides no assurance that actual results will meet management's expectations. Factors which cause results to differ materially are set out in the Company's documents filed on SEDAR. Undue reliance should not be placed on "forward looking statements."