Field crews focused on the Inferno Zone where previous highlights include 4.10% Cu, 14.96 g/t Au, and 65 g/t Ag* in quartz-magnetite-chalcopyrite assemblages.
A compilation consisting of 3D magnetic inversion, LiDAR imagery, geology, and geochemistry shows an excellent correlation between structure, geology, alteration, and mineralization.
Calgary, Alberta – September 21, 2023. Cascade Copper Corp. (CSE: "CASC") ("Cascade" or the "Corporation") is pleased to announce that they have deployed a team of geologists to their Fire Mountain Porphyry Project in Southwestern BC. The Fire Mountain Copper Porphyry project is a large, 79.13 square kilometre, potential "Flagship" project with significant surface assay results, intensive veining, and impressive alteration all highly indicative of a large porphyry-style system. The Project is located approximately 13km south of the Rogers Creek Project within the Cascade Magmatic Arc. The field crew is focused on the Inferno Zone where they will map the geology, alteration, and mineralization while collecting samples for assay. The Inferno Zone is the site of historic sampling where previously surface samples returned values up to 4.10% Cu, 14.96 g/t Au, and 65 g/t Ag*. The project is underexplored, has had no ground geophysics (IP), and has not been drilled.
Shannon Baird, Cascade Copper's Vice President of Exploration remarks "We have been very eager to get boots on the ground at Fire Mountain, not only because of the outstanding historic assay results, but also because of the extraordinary veining and alteration we've seen, particularly at the Inferno Zone. This zone is trending along the contact of the Rogers Creek Pluton and from the recent 3D interpretation, looks to extend for over eight kilometers."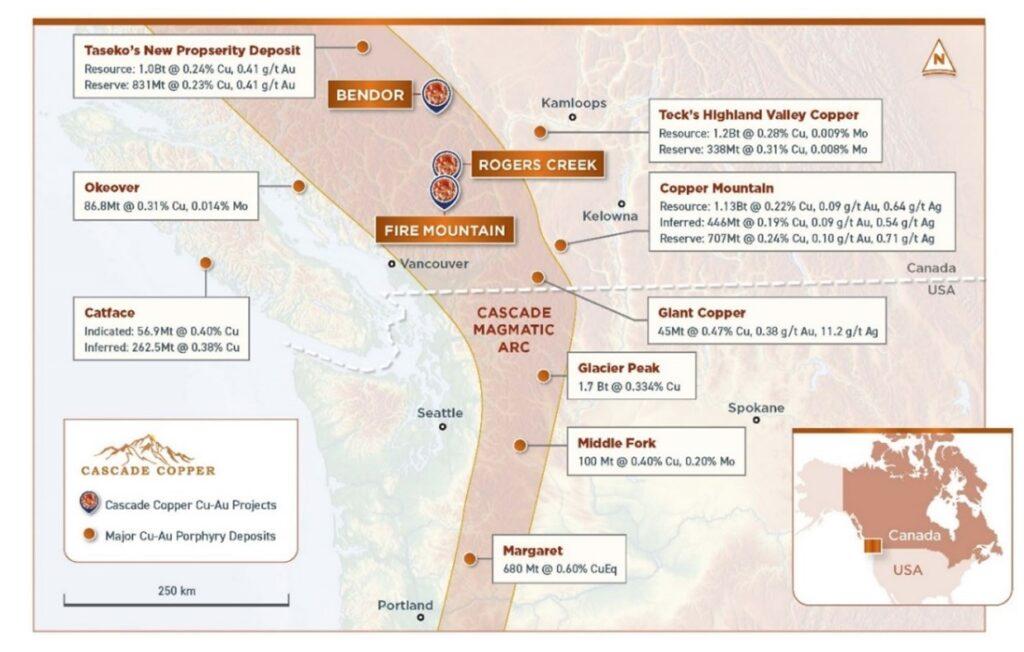 Figure 1: Location of the Fire Mountain Copper Porphyry Project within the Cascade Magmatic Arc showing locations of nearby porphyry and epithermal deposits. References for resources and reserves from company AIFs, BC Minfiles, Lasmanis et al.
2023 Field Exploration Program*
The recently deployed field crew will focus their efforts on the Inferno Zone, where they will map and sample a wide area of veining and alteration identified by Cascade Copper's geologists during several recent field visits. The Inferno Zone is characterized by hydrothermal veining with alteration and mineralization within the Cretaceous-aged Gambier Group volcanic breccias and sediments adjacent to the contact with the Miocene-aged Rogers Creek Pluton. Figure 2 below indicates the area of interest at the Inferno Zone

Figure 2: The Inferno Zone at Fire Mountain extends along the contact with the Rogers Creek Pluton and hosts significant historic assays with unexplored extensions in all directions.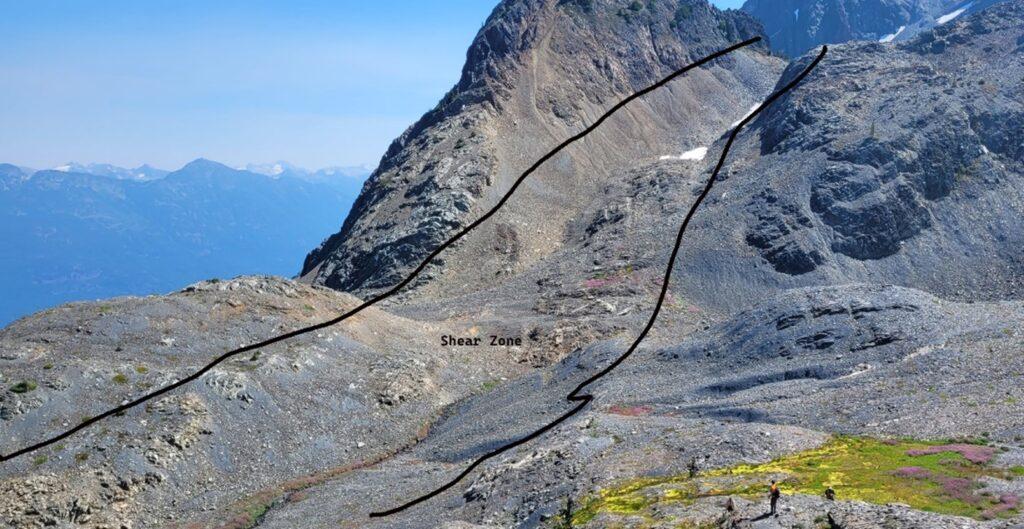 Figure 3: Shear at the Inferno Zone looking south. Distance across image in foreground is approximately 150m
3D Magnetic Inversion Modelling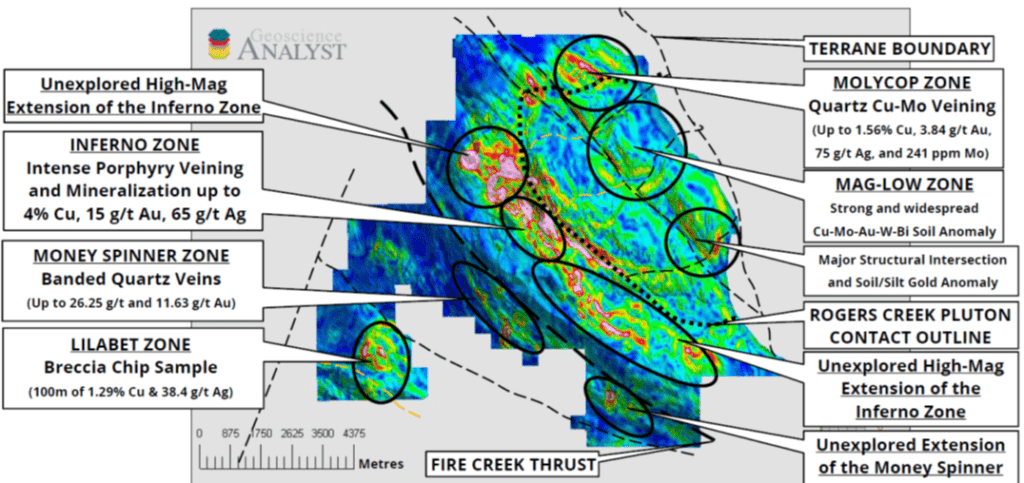 Figure 4: RTP Analytic Signal inversion modelling shows magnetic trends along the contact with the Rogers Creek Pluton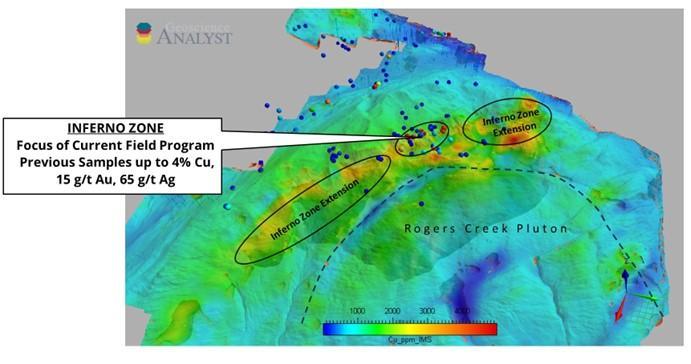 Figure 5: Oblique 3D view looking south-west showing the Inferno Zone with historic rock samples (Cu values shown by colour scale) and magnetic intensity draped over topography
Magnetic Inversion modelling of airborne magnetic data has revealed a strong correlation between mineralization and structure at Fire Mountain. The Inferno Zone contains two closely spaced, highly magnetic zones in a northwest-southeast direction that are spatially related to the contact with the Rogers Creek Pluton and a significant shear structure manifested by fissile and rusty volcanic sediments.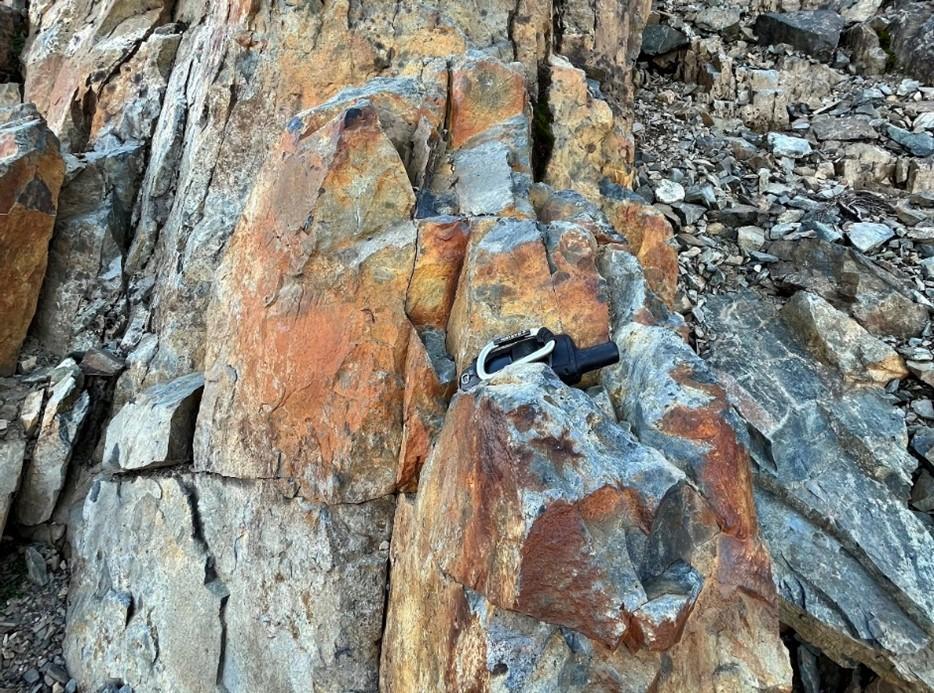 Figure 6: Rusty and sheared volcanic sediments near contact with the Rogers Creek Pluton
The 3D modelling indicates a large magnetically susceptible body at depth directly below the Inferno Zone and its along strike extensions. This magnetic body is interpreted to represent magnetite alteration associated with a porphyry body and will be the focus of future IP geophysical testing.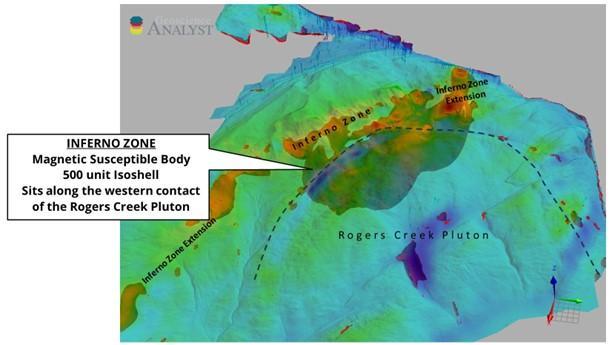 Figure 7: Oblique 3D view looking south-west showing the interpreted Magnetically susceptible body at depth below the Inferno Zone.
Other Mineralized Zones at Fire Mountain
MolyCop and Mag-Low Zones: The 3D inversion has also indicated some low magnetic areas associated with a large structural intersection zone within the Rogers Creek Pluton. This area is known as the MolyCop zone and was originally recognized as a target from soil sampling across the area. The soil samples indicated wide zones of significant Cu-Mo-Au-W-Bi porphyry pathfinder elements, and now with the magnetic data indicating potential porphyry-style, magnetite destructive alteration, this elevates the MolyCop Zone to a high priority target for further investigation. The minimal prospecting and sampling in the area discovered multiple showings of copper-molybdenum mineralization along new logging roads. Molybdenite +/- chalcopyrite are observed in veins and on fractures and joint planes with values up to 1.56% Cu, 3.84 g/t Au, 75 g/t Ag, and 241 ppm Mo in grab samples*.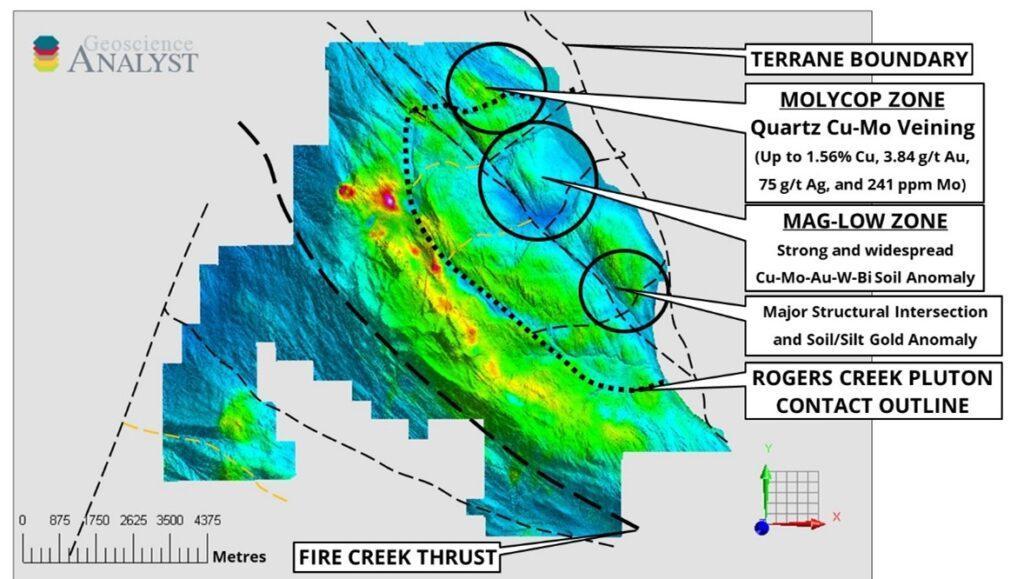 Figure 8: The MolyCop Zone having elevated porphyry pathfinder elements over a magnetic low within a structurally significant area.
Figure 9: An oblique 3D view of The MolyCop and Mag-Low Zones showing Mo in soils as spheres and Cu in rocks as cubes. Looking south-west.
Money Spinner Vein Zone
Historic chip sampling of the NW-trending, ~1.2m wide by 300m+ long, ribboned epithermal quartz Money Spinner vein assayed 26.25 g/t Au while another parallel vein system ~200m east assayed 13.63 g/t Au*. The Money Spinner vein was mined in the last century with very little modern exploration work performed. The strike of the Money Spinner veins is parallel to the Fire Creek Thrust Fault, a major structure through the project area. Further sampling and mapping are planned at this prospect to determine strike length, vein density and grade.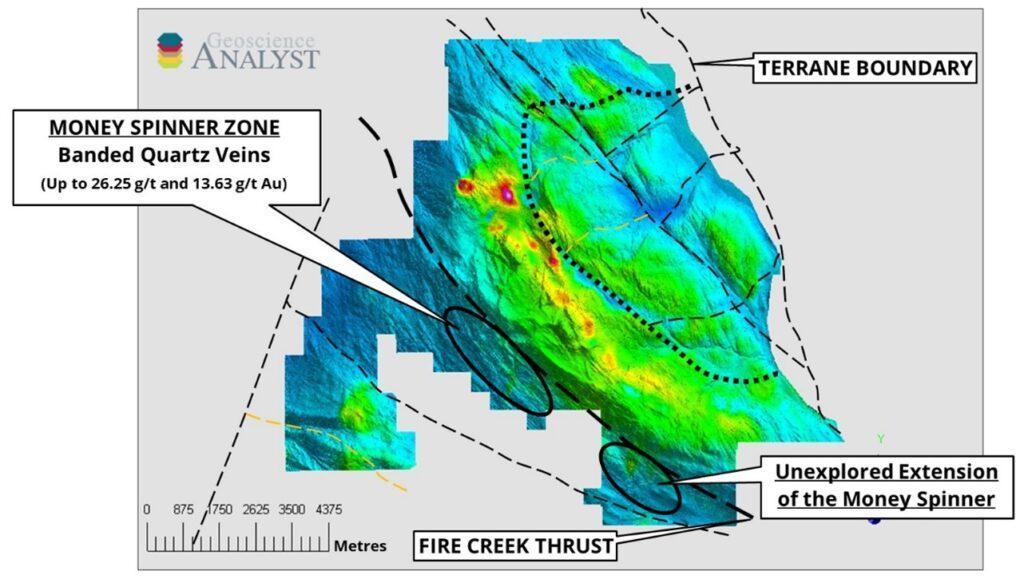 Figure 10: The Money Spinner Zone striking parallel to the Fire Creek Thrust and south-west of the Inferno Zone.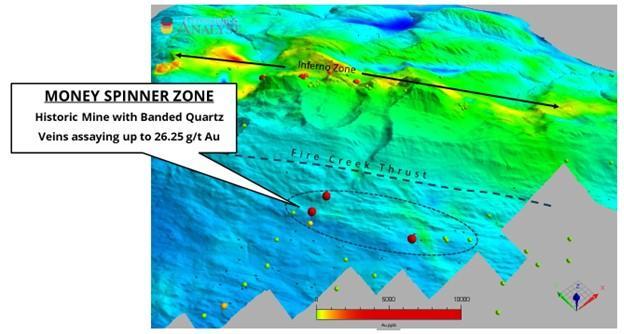 Figure 11: An oblique 3D view of the Money Spinner Zone showing Au in rocks as spheres. Looking north-east.
References for Historical Data
*Please note that all assay values contained within this release are from previous operators, considered to be "historical" in nature, and have not been independently verified by Cascade Copper. The values have been extracted from publicly available government resources including Assessment Reports and MinFile inventory details and it is unknown what type of quality-control programs were performed at the time.
The Qualified Person responsible for the technical content of this press release is Shannon Baird, P.Geo, Vice President Exploration of Cascade Copper Corp.
Next Steps at Fire Mountain
Cascade Copper will be planning several lines of Induced Polarization geophysics to outline sub-surface zones of potential sulfide enrichment and establish priority drill targets at the Inferno Zone. It will also be prospecting and sampling at the MolyCop zone to confirm evidence of a porphyry source for the copper, molybdenum, gold, and silver mineralization. Although not much work has been done at the Money Spinner Zone, the Company is anticipating sampling the vein systems there as well.
About Cascade Copper
The Corporation is an exploration stage natural resource company engaged in the evaluation, acquisition, and exploration of copper based mineral resource properties. Cascade is focused on copper and gold, porphyry and epithermal deposits in British Columbia. Cascade's priority is to conduct exploration, including drilling on its flagship Rogers Creek Property located in the Coast Mountain Belt of British Columbia, 90 kilometres northeast of Vancouver. Cascade currently has three active projects, including the Fire Mountain Copper-Gold Project, the Bendor Gold Project, and the flagship Rogers Creek Copper-Gold Project. It has recently signed an LOI to purchase 90% of the Copper Plateau Copper Porphyry project located in South Central BC.
FOR FURTHER INFORMATION, PLEASE CONTACT:
CASCADE COPPER CORP.
Jeffrey S. Ackert, President and CEO
Vancouver, BC V6E 4A4
Telephone: 1 613 851 7699
E-Mail: [email protected]
Neither the CSE nor its Regulation Services Provider (as that term is defined in the policies of the CSE) accepts responsibility for the adequacy or accuracy of this release.
DISCLAIMER & FORWARD-LOOKING STATEMENTS
This news release includes certain "forward-looking statements" which are not comprised of historical facts. Forward-looking statements are based on assumptions and address future events and conditions, and by their very nature involve inherent risks and uncertainties. Although these statements are based on currently available information, Cascade Copper Corp. provides no assurance that actual results will meet management's expectations. Factors which cause results to differ materially are set out in the Company's documents filed on SEDAR. Undue reliance should not be placed on "forward looking statements."